We woke up after a good night sleep in the meadow. Although last night was mostly dry, there is a promise of heavy rain. This makes us a little nerveous for we do not want to get stuck in the muddy meadow on our second day.
So we're off.
Highway through Belgium
We took the highway through Belgium. We haven't planned wandering through this country as there aren't any Natuurkampeerterreinen left in Belgium. This was the only one. Also, we have become member of France-Passion, the French Farmer Hospitality network. More on that subject later.
No Plans
We have no plans. No. Plans. This takes a lot of getting used to. A lot. I am still heavily callibrating and are constantly overthrown by panic. There is a constant cloud of mist in my head. Maggie is much more relaxed and focussed. At this moment she is the grounded one. Usually, I think I am the grounded one, but these days I am not. Far from. Take for instance yesterday evening. I find myself feverishly looking for tomorrows spot on maps and apps, to be completely overthrown by endless possibilites they offer. Free Spots, Camperplaces, Campings, All-Night-Parkings, Farmer spots, Nature Campings, semi-legal spots... they all pile up in the apps. It is hopeless.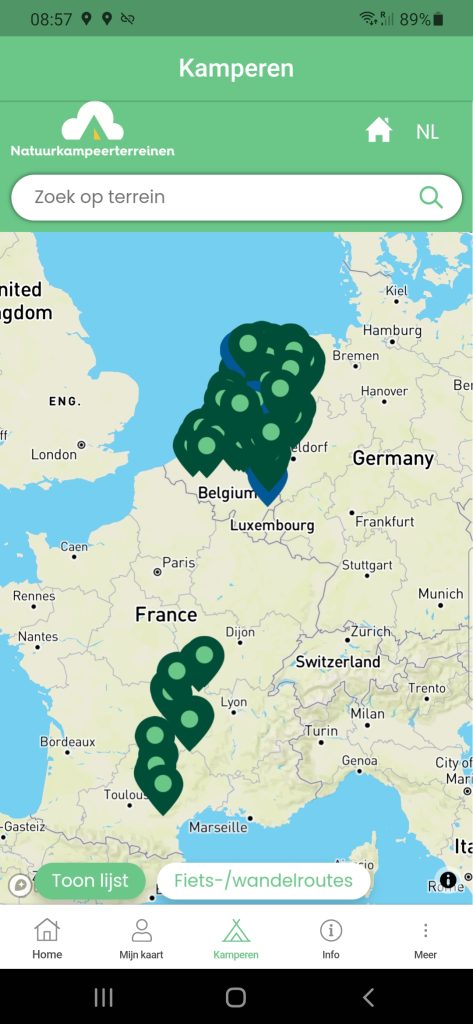 Hopelessly overwhelmed by the endless possibilites
At this time I am lost. Maggie is calm. "Let's just go" she says. And so we do. As said: we will try not to drive for more than three hours a day, since we have all the time in the world.
Snow?
Weather is not getting any better in the Belgium Ardennes. Massive gray skyline embodies the promise of snow. Maybe it is wise to find a spot for the night.
Luxembourg
We decide to take a sharp turn to left and enter Luxembourg. Neither of us has never been there. Trough Park4Night we found a Free Spot at a place called Weiswampach at the top of Luxembourg. "Weiswampach". Sounds pretty Luxembougian to us. From the quirky sounds the Luxembourgians make, weiswampach fits in perfectly.
Free Spot
We arrive at the spot. Off the main road, next to a building site. Ah well, its free . There is only one Camper parked next to us. We feel safe.
Almost instantly it starts snowing. Luckely it is still +1°C so the snow wont last, but this will change rapidly. No connection from our MIFI, so we dont have any clue about the weather forecast, nor can we do any work.
Snow
During the evening snow thickens. Wind starts picking up too. But it is warm and cosey in our birdhouse. I make some snowy shots with our GoPro.